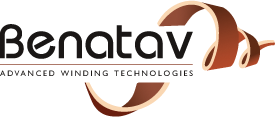 Since its establishment over 30 years ago, Benatav's activities center around winding coils and treatment of conducting wires. The company specializes in designing and manufacturing solutions customized to fit clients' needs by employing advanced technologies developed in-house, which enable meeting the most complex technical requirements.
The company specializes in designing and manufacturing coils for the solar industry, designing and manufacturing micro-coils, employing innovative technologies to connect ultra-fine wires for the medical device industry, and offering special solutions for the traditional coils industry.
Learn more >>
Recognizing the engineering challenges posed by medical device miniaturization, Benatav has developed a unique array of capabilities, both in designing...

Benatav specializes in designing and manufacturing innovative coils that serve as inductors for solar inverters. The design is based on...

Benatav offers its clients a broad array of coils for various uses, manufactured per customer specifications

...

Designing and manufacturing state of the art coils for a broad array of industries requires unique design expertise and mastery...
Our Products